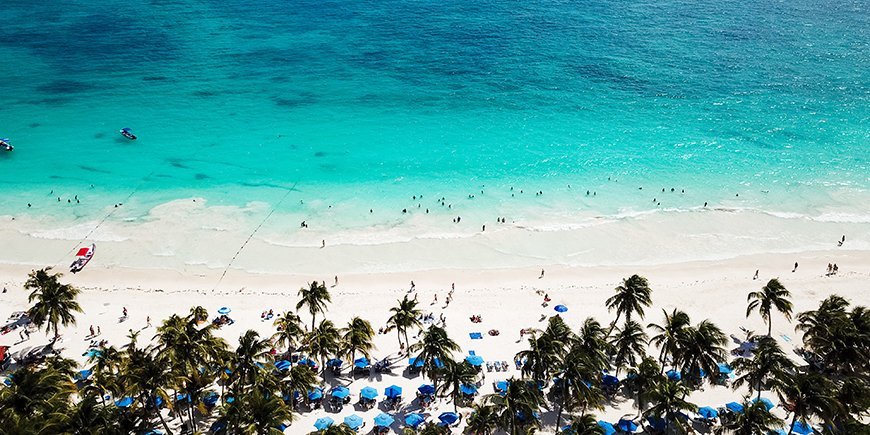 Where are you going for winter holidays?
If you're dreaming of dry, hot weather, then January and February are good months to visit Central and South America. Many Latin American countries have their dry season in these months.
Get inspiration for 5 fantastic winter destinations below:
Costa Rica in January and February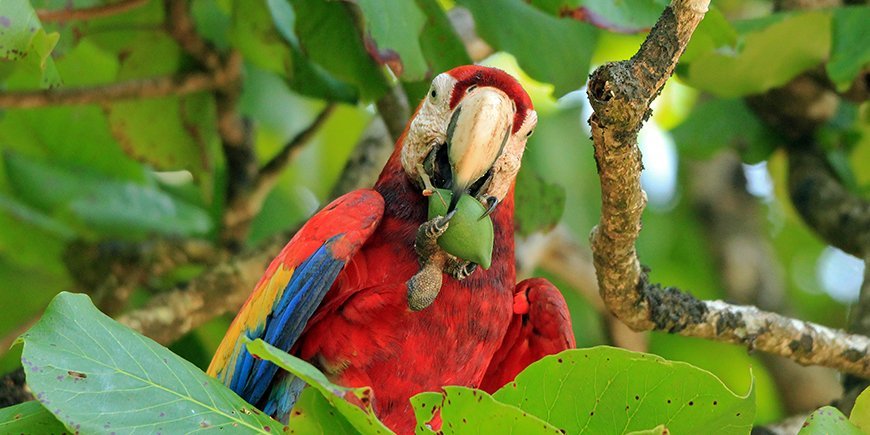 January and February are popular months to visit the small, Central American country.
Costa Rica is surrounded by the Pacific Ocean to the west and the Caribbean Ocean to the east, and while the Caribbean coast is still in the middle of its rainy season in January, the Pacific coast has dry, hot weather to offer.
In Costa Rica, you can experience unique nature and animal life in one of the many fantastic nature areas and national parks:
If you dream of biodiversity, Corcovado National Park is one of the best places to visit – approx. 50% of Costa Rica's plant and animal species live here and you can, for example, see one of the world's scarlet macaw largest populations.
In the cloud forest of Monteverde, you will find a true adventure area where you can do activities such as walking on suspended bridges between the treetops or go on an exhilarating zipline ride through the lush landscape. In Manuel Antonio, you will find one of Costa Rica's most popular national parks and most beautiful beaches.
Costa Rica is a beach paradise as well. Aside from the beaches in and outside Manuel Antonio National Park, the Pacific coast also offers pleasant coastal towns. For example, the small coastal town of Playa Sámara is excellent for a beach holiday. Here you will find a wide sandy beach with swaying palm trees, where you can enjoy the hot weather.
Spend your winter holiday in Costa Rica:
Mexico in January and February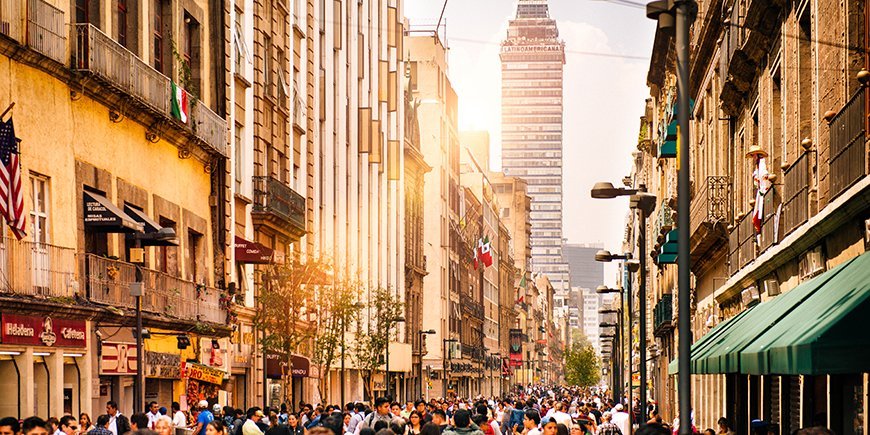 Are you dreaming of tons of sunshine and lovely temperatures in your winter holiday? Then Mexico is a fantastic country to visit. Like vast swaths of the other countries in Latin America, Mexico's dry season is from November to April.
However, there may be a relatively major difference in temperatures if you travel in the highlands, which include Mexico City, or in the lowlands and coastal regions. As a general rule, it will be hotter in the lowlands and by the coast than in the mountains.
The Yucatan Peninsula is situated in the lowlands and sticks out into the Caribbean Sea. On the east coast of Yucatan are the cities of Playa del Carmen and Tulum. The streets of Playa del Carmen are full of life, and here you can bathe at the fantastically beautiful beaches and go snorkelling among fish in all sorts of colours. Tulum is particularly well known for its small, undisturbed beaches. The pace is completely slowed down here, and the city is perfect for those who are seeking a more relaxed, bohemian atmosphere.
Mexico City is a good place to stay during the dry season, as it is rarely as hot and humid as it is in the rainy season. The weather is well-suited for a stroll down the streets and looking at the city's beautiful buildings. Many of these Colonial Era buildings are built using stones from old Aztec buildings, and it is still possible to spot Aztec symbols in some of the many stones.
In Mexico City, you must also make sure you do not miss Mexico's lovely and delicious food. For example, try tacos al pastor, cheese-filled quesadillas and sweet churros.
Spend your winter holiday in Mexico:
Cuba in January and February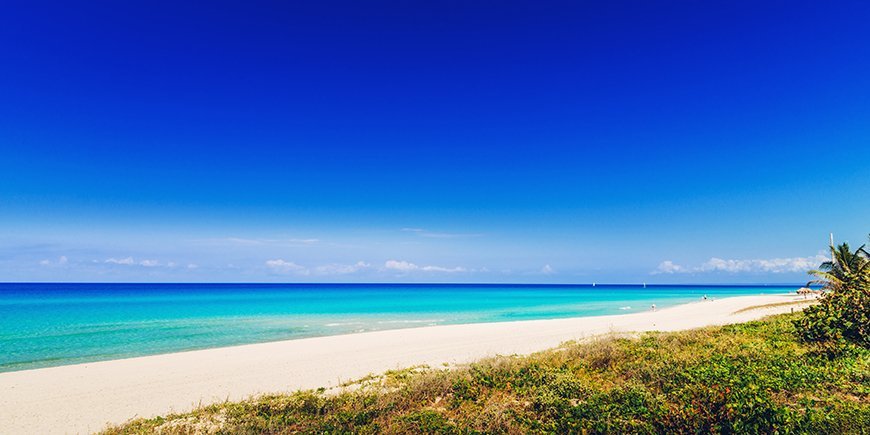 On a winter tour to Cuba, you will arrive right in the dry season and can expect blue skies, lots of sun and comfortable temperatures, albeit with some cooler nights – so remember a sweater, so that you can enjoy the beautiful sunsets.
As there is very little precipitation, these months are lovely for strolling around Havana's beautiful streets. In Havana's old district, which is on UNESCO's World Heritage List, you will find cobblestone plazas and gorgeous Colonial Era buildings. Have a delicious lunch or enjoy a chilled Mojito at the old square Plaza Vieja's cafés and take in the atmosphere of this historic city.
A fun way to make use of the warm evenings is by visiting a dance bar, where you can take a swing to Cuba's passionate salsa rhythms. Here, you will quickly warm up and hopefully have a great evening on the dance floor.
Conclude your tour with a beach holiday in, for example, the beach paradise Varadero, where the water is crystal-clear and incredibly blue. There are loads of water sports activities available to you in Varadero. For example, you can go on a snorkelling trip off the coast and take a closer look at the colourful life in the water's surface. Naturally, you can also settle down on a lounger chair on the beach or take a refreshing dip in the hotel pool.
Spend your winter holiday in Cuba:
Colombia in January and February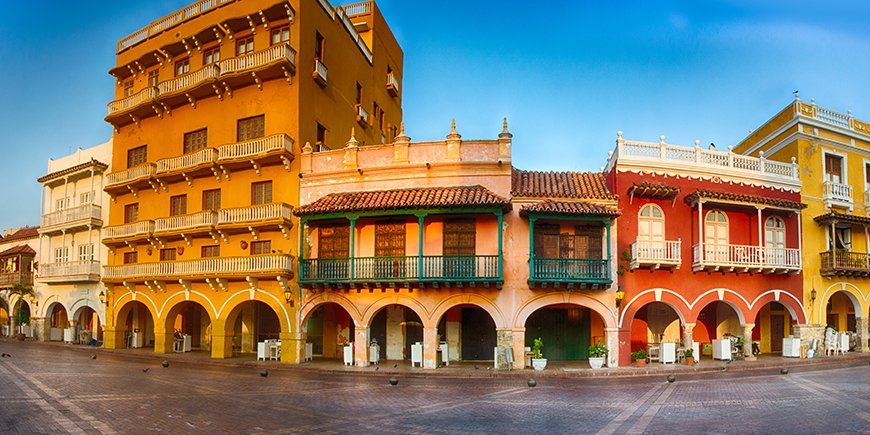 If you would like to experience Colombia from the country's very best side, then a tour in January and February is excellent timing.
The dry season in Colombia stretches from December to April. The equator runs through the southern parts of Colombia, helping to create very stable temperatures all year. Of course, there are differences in the temperatures depending on whether you are located by the coast or in the mountains.
In Cartagena, by the Caribbean coast, the weather in January and February is perfect for walks in the old district. With sunshine over your head, you can stroll behind the thick city walls in the UNESCO preserved district and see the beautiful Colonial Era buildings the Spanish constructed when they colonised the country back in the 1500s.
Colombia's capital of Bogotá is located in the highlands, and although it rarely gets too hot in the city, the dry season offers loads of sunshine. Experience the capital on a guided cycling tour in the city, in which you experience beautiful plazas and markets. Each Sunday, the middle of the city is shut down for cars, so there are even better conditions for a cycling trip in the sunshine.
The coffee region in Armenia is the complete opposite of the busy big city. Here it is calm, green, lush and wonderfully warm. Spend your day on a coffee farm, which in the dry season typically offers clear, sunny days.
Spend your winter holiday in Colombia
Argentina in January and February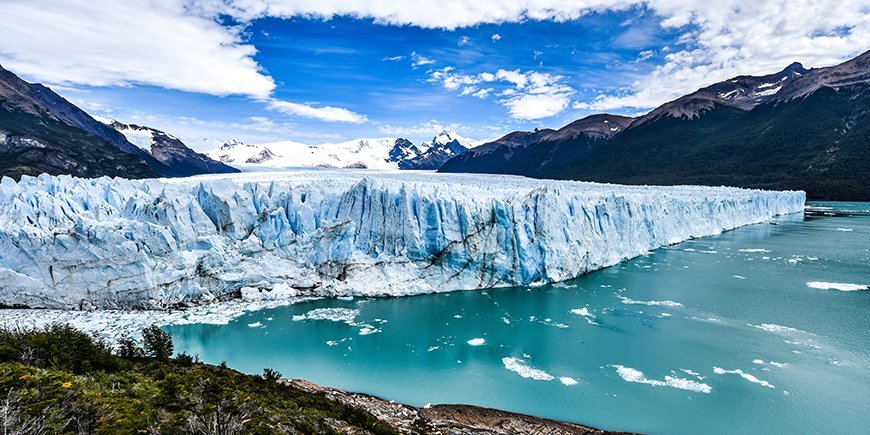 If you're dreaming of escaping the cold winter back home, then Argentina is a fantastic choice. Argentina is located on the southern hemisphere, meaning that it's summer there during our winter. This is also why the first months of the year allow you to experience some of the hottest temperatures in Argentina.
Unlike many of the countries closer to the equator, Argentina has 4 seasons. But Argentina is a big country too, stretching across many climate zones.
Buenos Aires, Argentina's capital, is located in the temperature climate belt, and in January and February it can get quite hot and humid. Although there is quite a lot of precipitation in these months, there are also lots of hours of sunshine. One thing you must experience on your tour to Argentina is the country's food culture – particularly their juicy red steaks and amazing red wine. Visit the modern harbour area of Puerto Madero, which is full of good restaurants.
If you would like to experience the impressive ice landscapes in the south, the first months of the year are excellent. The Perito Moreno Glacier is one of the highlights on a tour to Argentina. With higher temperatures and more sun, you have better odds of seeing large blocks of ice cracking off the glacier. And it truly is a spectacular nature show to witness when many tons of ice tumble into the ocean with a huge splash!
Spend your winter holiday in Argentina
Book your winter holiday well in advance
The first months of the year, particularly January, are popular travel months. If you're dreaming of spending your winter holiday on one of our Latin American destinations, then it is a good idea to book well in advance.
If you are uncertain about where to go, please contact our tour consultants, who are on hand to help you on the journey of a lifetime.
TourCompass